Street gangs phenomenon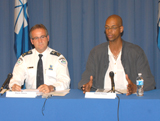 July 7, 2008 - The SPVM released its mid-year report on the street gang phenomenon in Montréal at the end of June. It reveals that for the first six months of the year, the general crime rate and street-gang crime are both down across the territory of Montréal.
Compared to last year, there is a decrease of:
6.4% in the general crime rate
9.1% in crimes against persons
8.1% in crimes against property
55% in the number of street-gang related murders
50% in the number of street-gang related attempted murders
This success stems largely from the many local operations and initiatives to counter and prevent the street gang phenomenon. Every day our front-line officers, patrollers, investigators, and prevention specialists are monitoring public safety and working together to determine the best ways to take action against this situation.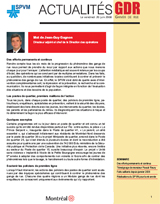 The efforts of the neighbourhood officers are backed up by different teams across the territory who support their actions against the street gang phenomenon. The latest addition to the family - the Éclipse squad - assists local units in their actions against street gangs, narcotics, cybercrime and emerging criminal phenomena.
But our success every day depends on the pooled efforts of the entire community - parents, youth and school intervention workers, elected officials and ordinary citizens. Putting a stop to the street gang phenomenon is a shared responsibility that we all have to take part in.
Far more information about street-gang crime is also being reported through the Info-Crime reporting line, which greatly helps the SPVM make Montréal a safer place to live.
To find out more ...
Street Gang News - June 20, 2008