Youth and the SPVM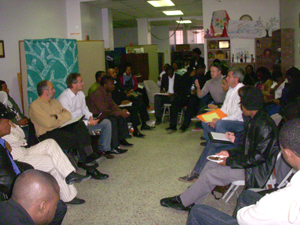 January 14, 2008 - On January 18, the Service de police de la Ville de Montréal (SPVM) will get together with about a hundred young people from different cultural communities across Montréal to learn about their concerns and explain how the police service works.
In addition a number of Ville de Montréal services, including the social diversity directorate, the local partners of the 33 neighbourhood stations (PDQs) will also participate in the meeting.
This meeting is being held as a follow-up to a meeting last October 26 that also sought to bring these two groups closer together. At the last meeting, the youth shared their concerns about some police actions, such as the impression that some officers seem prejudiced against or unfamiliar with blacks, police training in racial profiling, and the mechanics of the police intervention process.
The meeting on January 18 will focus on three themes: existing SPVM bridgebuilding activities (Beaux, jeunes et forts, Patrouille École Pour la Paix, Sécurité Iona, and local sports activities organized by the PDQs), the use of force in certain circumstances and racial profiling.
The meeting will also stand as another example that getting closer to youth and to community workers with specific expertise is part of the daily mission of SPVM officers. The SPVM firmly believes in the importance of working together and dialoguing with community workers and youth in the best interests of the entire community.