New youth section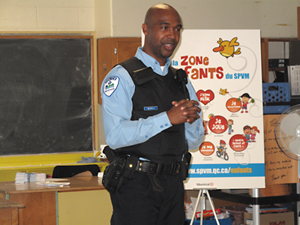 Our youth zone is divided into four sections - kids, teens, parents and teachers, and it explores all the same themes that police officers talk about when they visit Montréal schools, such as road safety, bullying and cyberbullying, taxing and personal security, to name just a few. Police visits to the classroom will take on a technological hue, because the officers will be able to browse the site with the students.
The section was designed to foster discussion between students and police, between teachers and students, and between kids and their parents. It boasts nearly 90 pages of information that reflect the concerns of the Ville de Montréal and the SPVM: keeping kids safe at all times, in the streets, in the school yard and on the net.
Kids and teen zones
These two zones are designed especially to appeal to kids and teenagers. For example, the younger children are invited to learn all about the SPVM mascot, FliK, to talk about their problems, to play an interactive safety game and to meet Montréal youth who are doing something special with their lives.
Teens will find practical advice about a wide range of topics, including vehicle modifications and street gangs. They will be introduced to the police profession in the "sign up" section and they will learn about the various SPVM units through our collector's cards.
The new youth section also has a zone for parents that provides advice to help parents and children identify and overcome problem situations, and a teacher zone with help resources for teachers and social workers.
This site also allows residents of Montréal to discover other aspects of policing work, such our prevention and bridge-building with the public. It's a tool we are offering to parents, social works and teachers because we care about the safety and well-being of our young people.