Pedestrians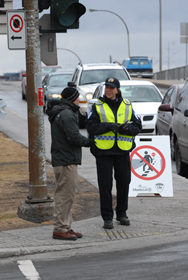 The campaign runs until May 3 and targets all pedestrians and drivers in Montréal. It encourages people to act safely and respect each other at intersections and crosswalks.
A number of awareness and involvement activities have been set up, along with police checks, to reduce the number of accident victims and improve the road safety record. Leaflets that clearly explain pedestrian traffic signals are also being distributed by police officers.
In 2008, 18 of the 33 people who died in car accidents were pedestrians - that's 54.5%.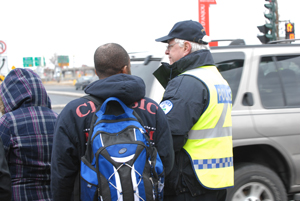 Of all the users of the road network, pedestrians are the most vulnerable - they have next to no chance in a collision with a vehicle. We want to ensure that all pedestrians understand the importance of being careful, obeying traffic signals and sticking to the rules.
We are also taking steps to ensure drivers are driving safely and yielding the right-of-way to pedestrians at crosswalks.
In April, police officers will be paying special attention to:
Compliance with traffic signals - red lights, pedestrian lights
Compliance with right-of-way at crosswalks - pedestrian crossings - turns on green
And they will encourage pedestrians to cross at intersections instead of between intersections.
As a friendly reminder for everyone, here are some important rules of the road to follow:

Pedestrians:
Cross at the intersection or at a nearby crosswalk.
Obey the traffic lights and pedestrian signals at intersections.
Before you step into a yellow crosswalk that is not regulated by traffic lights, make sure you can cross all the way safely.
Breaking these rules may lead to a $15-$30 fine, plus fees.
Drivers:
At a red light, stop your vehicle

before

the crosswalk, the stop line or the near side of the intersecting roadway.
At a green light, pedestrians have the right-of-way if you are turning, so let them cross first.
At green arrows, yield to pedestrians who have already entered the crosswalk.
At crosswalks, stop your vehicle to allow pedestrians to cross safely: they have the right-of-way.
Don't stop your vehicle in an intersection or on a crosswalk or less than 5 metres from a crosswalk.
Breaking these rules can lead to a $100-$200 fine, plus fees, and up to three demerit points.
2007-2008 Road Safety Record
Collisions involving pedestrians

2007

2008

Change
2008/2007

Number of deaths

24

18

- 25%

Number of serious injuries

128

77

- 40%

Number of minor injuries

1361

©2004-2013, All rights reserved. Service de police de la Ville de Montréal. | Legal notice
This site is optimized for a screen resolution of 1280 x 1024 pixels.