Services d'ordre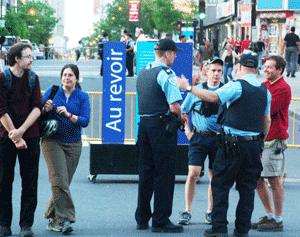 Every year the arrival of spring coincides with the beginning of public gatherings (festivals, demonstrations and parades) in Montréal, and every year the Service de police de la Ville de Montréal (SPVM) takes steps to prepare for a great many events of this type.
For the preparations, the Direction des opérations sets up crowd control services that are coordinated by experienced teams. Each crowd control team includes officers from different units that help support their colleagues from the neighbourhood stations, who can't cover daily emergency situations and major public events at the same time.
The point of the deployment is above all to safeguard the public by preventin things from getting out of hand and keeping traffic flowing smoothly. The number of additional staff required is determined based on the type of event and the expected number of participants.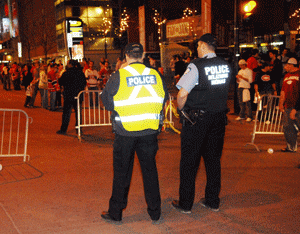 As the expansion and development of the Quartier des spectacles demonstrates, the neighbourhood stations most likely to need crowd control services are the ones downtown (PDQ 20, 21 and 22), where the streets host a lot of festivals. It is also in these areas that we have the most student demonstrations, since most of the universities are located there.
The SPVM manages over 1,500 public gatherings a year, from tiny to enormous. The best known among them are:
The St. Patrick's Day parade
The Saint-Jean-Baptiste parade and celebrations
The jazz festival
The Just for Laughs Festival
The Francofolies
The fireworks
Saint-Laurent and Mont-Royal sidewalk sales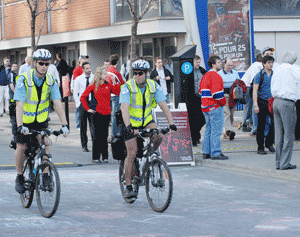 About 97% of public events in Montréal unfold with no arrests, and when there are arrests, they usually involve minor infractions for breaking municipal bylaws.
The SPVM respects freedom of expression and the public's right to demonstrate. Our concern is the safety of the people who are taking part in public demonstrations of any type in our territory. Here are some safety tips to help you make the most of the next public gathering:
Notify the police immediately if you need help during the event
Be respectful to other people and to public and private property
If you decide to consume alcohol, drink sensibly, and give your car keys to a designated driver - or take public transit
Don't forget that it is against the law to drink alcohol in the streets