Missions extérieures 2008
July 25, 2008 - This past July 9, after nine months in Haiti, Lyonel Anglade, Nathalie Aubre, Pascal Beauvais, Patricia-Ann Bourgeois, Pierre Brien, Robert Brouillard, Robert Del Papa, Nathalie Deslauriers, André Dénomme, Jean-Pierre Dulude, Denis Gauthier, Daniel Lachance, Claude Larocque, Pierre Limoges, Christiane Malenfant, Sylvain Paquette, Gilles Saindon, Normand Sylvestre, Dany Tremblay and Pierre Valour were satisfied by their involvement and are, of course, happy to return home to Québec. Inspecteur Mario Leclerc is remaining in Haiti to welcome the next contingent.
The SPVM has been in Haiti since 2004 as part of the United Nations Stabilization Mission in Haiti. In collaboration with the RCMP, Montréal police officers are going to Haiti to train and advise local police. A rigorous selection process was established by the unit responsible for these activities (Section développement des affaires et missions extérieures du SPVM) to select candidates carefully.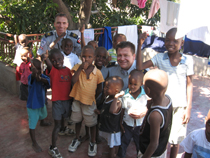 The police officers who have had the opportunity to live this experience are providing their know-how and support to other countries, but they are also returning home with a tremendous life experience. "We see misery and we want to help people as much as we can during our stay. This is difficult at times but I know that our work is very useful. I am bringing home with me several precious friendships and I have promised myself that I will maintain them," remarked Officer Patricia-Ann Bourgeois of the 10th contingent.
International involvement of the SPVM
The involvement of the Service de police de la Ville de Montréal in peacekeeping missions for such organizations as the United Nations, the European Union, and international tribunals dates back to 1995.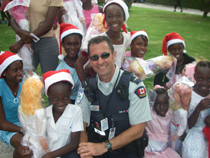 Further to its mission in Haiti, the SPVM is currently participating in a mission in Bosnia and is planning two others for the fall, one in Afghanistan and the other in Côte d'Ivoire. Negotiations are now underway for an all-new mission, this one in Sudan.
EUPM - Bosnia-Herzegovina
European Union Peace Mission in Bosnia-Herzegovina (EUPM BH)
1 SPVM officer is part of this mission
In operation since 2003
12-month mission
Advise and train local police
PRT - Afghanistan
Kandahar Provincial Reconstruction Team (PRT) headed by Canada
2 SPVM officers will be part of the mission this fall
12-month mission
Train local police
ONUCI - Côte d'Ivoire
United Nations Mission in Côte d'Ivoire (ONUCI) at Abidjan
1 SPVM officer will be part of the mission this fall
In operation since April 2004
9-month mission
Advise and train local police
UNMIS - Sudan
United Nations Mission in Sudan (UNMIS)
A new mission for Canada
9-month mission
Advise and train local police